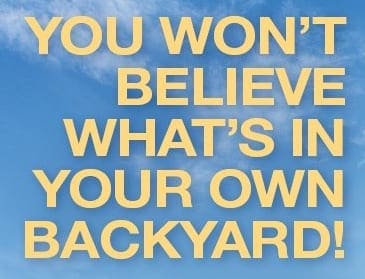 RevenFlo just recently signed Piedmont Medical Center as an Internet Marketing client. We used to have them as a client, but we had only been allowed to work on Search Engine Optimization. Now, we have been invited into the strategic marketing team and are working weekly with Amy Faulkenberry and Katie Price, plus two other local vendors.
We just launched the new campaign this weekend "You Won't Believe What's in Your Own Backyard." RevenFlo joined the team just before the launch of this campaign, and we give much kudos to the team for designing it. We love it.
I grew up in Rock Hill, and I participated in what I now call our past inferiority complex to Charlotte. I don't participate in that complex anymore. I don't believe that it's true, that Charlotte is better and has better everything that Rock Hill. One of the benefits of living in Rock Hill is access to Charlotte, of course. But Rock Hill is better, in my opinion. I'd rather live, work, eat, and drink in Rock Hill. Now, again, I like to go to restaurants, ball-games, shows, and such in Charlotte, but I consider that a perk of being in Rock Hill, not a strike against it.
I grew up thinking that Piedmont Medical Center was inferior to hospitals in Charlotte, that Winthrop University was inferior to Universities in North Carolina, that York Technical College was inferior to CPCC. But now I don't see it that way at all. Dicksy and I had a wonderful experience at Piedmont Medical Center when we had Rosey (our second child). It couldn't have been better. And Winthrop's Digital Information Design program is cutting edge and recruiting kids from across the country (not to mention its MBA program, and strong music, art, and teaching programs). And York Technical College has supplied more RevenFlo employees than any institution.
I'm excited about the Backyard campaign at Piedmont because it's so true. Piedmont is offering cutting edge surgeries like Single Incision Laparoscopic Surgery for hysterectomies. They were selected as 1 of 4 hospitals in South Carolina with excellence in serving in Heart Attack, Heart Failure, Pneumonia and Surgical Care. They are cutting edge in multiple areas from the technology on hand to the procedures offered. It's just hard for some folks to believe that that level of healthcare is here in our own backyard.
I'm excited about working with Piedmont Medical Center because I love being able to make a difference. I also love working on affecting a community's emotional response to a quality institution. Most people I talk to already have a positive impression of Piedmont Medical Center due to positive experiences they have had there. The ones who have a negative response, only a portion of them have personally had a negative experience. The others are just repeating other peoples' stories. Plus, many of the negatives come from the fact that nobody wants to be in the hospital to begin with.
I look forward to this work, and I am thankful to be part of an organization such as RevenFlo that is well respected and effective enough to be selected to join the team at Piedmont Medical Center. Here's to doing good work for good people.