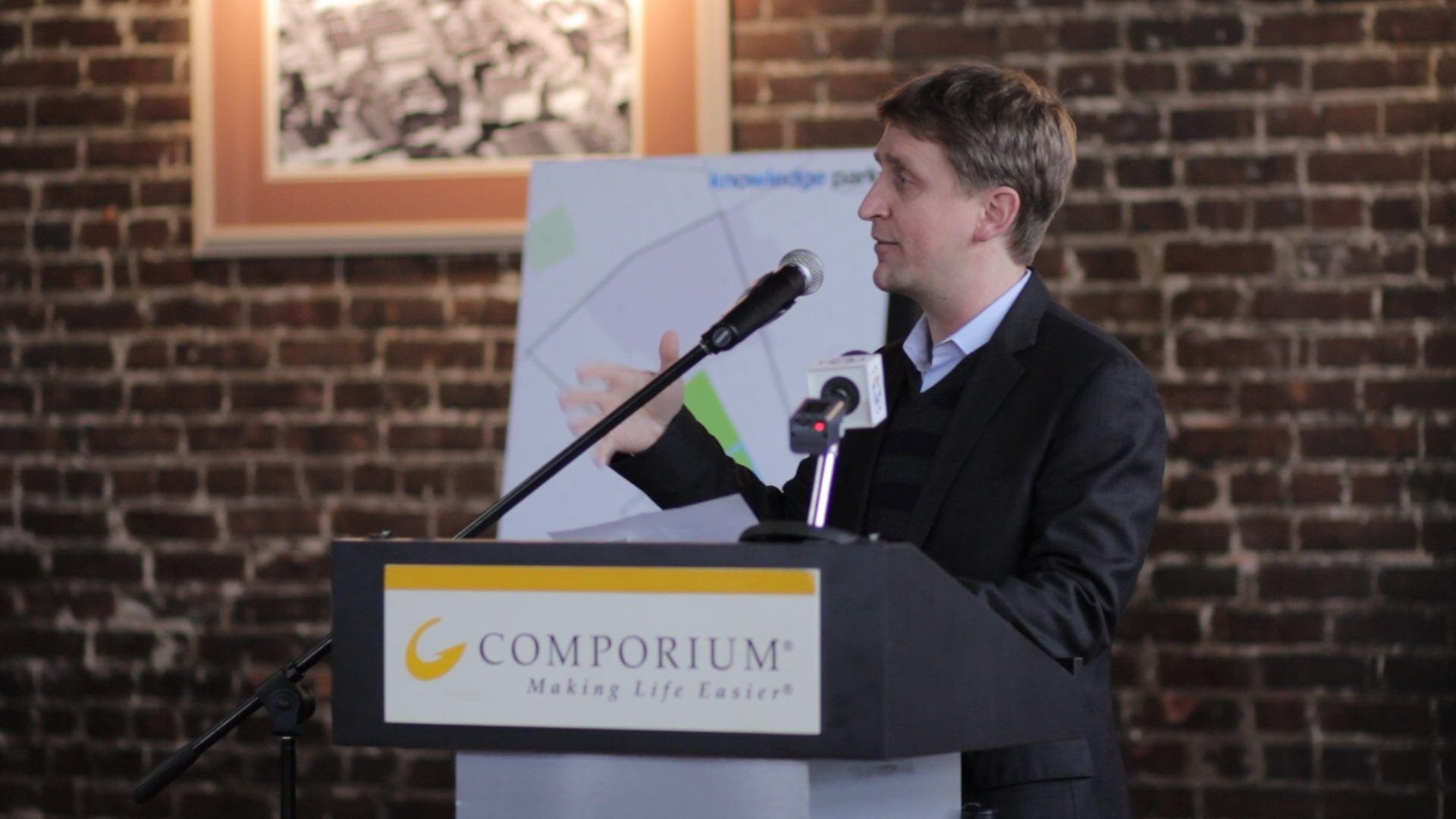 So Comporium Communications in Rock Hill, SC, just announced that they are putting in 1gig Internet in Old Town Rock Hill. This makes us one of two dozen communities in the nation to have this crazy speed of Internet.
I was asked to speak at the announcement alongside the CEO of Comporium, the Secretary of Commerce for South Carolina, the Mayor of Rock Hill and another fellow entrepreneur who's company is also located in Old Town.
Here's my speech:
I am often asked by communities, "What do we need to be successful in the new economy?" My answer is that it takes a village, and it takes the world. While this answer may seem cryptic, it couldn't be more literal.

For the past 60 years, we have developed this nation's cities simply as mechanisms for moving the automobile. We have replicated big-box and clear-cut projects to the point of cultural anonymity. We have compartmentalized our towns into working districts, living districts, shopping malls, and more. But a new dawn brings an embracing of our unique villages – villages of diversity and vibrance, of economy and prosperity.

As any era shifts, there are moments in history that are pivotal. Today is one of those moments for our story, for our village.

Rock Hill was born of the Industrial Era. As we grew, we supplied textiles to the nation, and by doing so employed more than 25% of our population directly, and much of the rest indirectly.

The backbone of this era was distribution infrastructure and logistics – interstates, airplanes, shipping lanes. Why make a million widgets in one town when the town doesn't need them? You do it so that you can ship them all over the world and bring the money back home.

When you look at the flow of currency in the Industrial Age, you create an argument for manufacturing. You see the services economy simply shuffling around the same money in the same community, while manufacturing is bringing money from outside of the community. And this is what we need for growth.

But all of that has changed.

The services economy now brings in money from the outside, as well. For example, the project scopes and proposals that are currently sitting on my desk next door are for organizations located in Charlotte, Birmingham, Dallas, and Barcelona.

They each describe services that we will provide to these organizations from right here on Caldwell street, right next door in our cozy little office. And the money they send us from their communities will be distributed among us, and spent at Millstone Pizza and Amelies.

The backbone of the new economy is not Interstates, but the Internet. The Internet connects us to the world, from right here in this village. And let it not go unsaid that talent wants a village, talent needs the world, and talent is the core currency of innovation.

Rock Hill was founded in this spot because Ebenezerville did not want the train to come through their town. The White family and the Black family said, bring it here, but give us a depot. That depot was our connection to the world. That connection created this place, for we built a village here where we had the world.

Today, the Internet is our railway. It's our connection. And Comporium is building us a depot. This day is a milestone in our new economy. We have a village, and now the world.