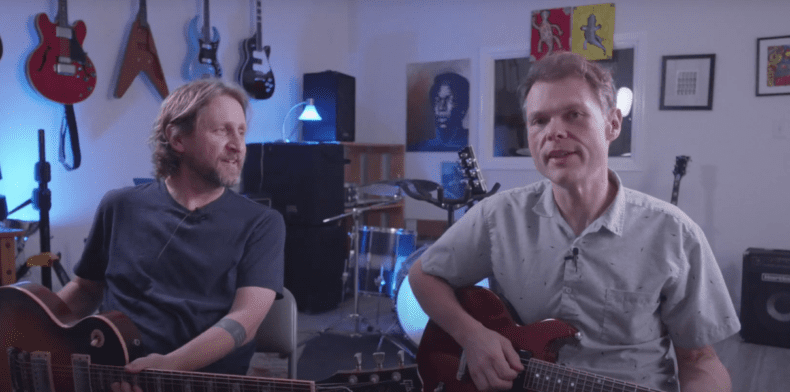 Creating a Retail Store

So, we accidentally started a guitar store. I'm not quite sure how it happened, but here we are with The Local Pickup – a vintage and boutique guitar store.
The Local Pickup (TLP) isn't quite like the usual local music store.
We carry a curated collection of vintage inventory that we ship across the lower US and Canada.
We also sell boutique brands that ship to the buyer from the manufacturer after purchase.
And, we operate a by-appointment showroom in the burgeoning Old Town Rock Hill, SC — squarely tucked at the center of an historic area experiencing a contiguous billion dollars of investment in community revitalization and redevelopment.
To date, we've been mostly an online business, meaning that we sell products online and then ship them (or have them drop-shipped). Our desire is to continue to move more towards the experiential. We want the showroom to be a place where people can experience the products — a comfortable, educational, and fun experience. Also, we want the studio to be a place where we do collaborations with local musicians by way of demoing the products we sell.
Regardless of how TLP uses its showroom and studio though, the take-away here for all of us is that the whole paradigm that says "there are online businesses and then there are normal businesses" is outmoded. All businesses use the internet.
The small store located on a historic main street needs the internet as much as Amazon does. They just use it differently. Whereas Amazon focuses their online efforts to achieving universal application (they want everyone to use their platform), a small retailer is using a different approach to the internet. A small retailer is working to show up in the Google Local Business listings on mobile so that when someone is trying to find the shop and they google it on their phone, they find it with directions and a phone number. A local retailer is using Facebook to grow a local audience of people who love their shop, visit it often, and even buy directly from their Facebook page with store pickup. Every business must use the Internet. The internet is ubiquitous.
I remember when we had Josh Frasier of Black Sheep on the podcast, and he said that people would stand in his store holding a product (shoes, for example) and be looking at those very shoes on their phone on the website, reading about them, watching a video about them, and so on. They would even buy them from their phone instead of the cash register because it was easier (their form of payment saved so they don't get any cards out of their pockets to pay, just click). That's pretty phenomenal when you stop and think about it.
It's easier for the buyer to utilize a global network of databases and technologies to purchase an item, than it is to exchange currency with the person standing right in front of them.
A seamless integration between the online experience and the offline experience has reinvented consumer behavior, and exploring how businesses and organizations can use the internet effectively is one of the great challenges and pleasures of my work.
RevenFlo
RevenFlo is our marketing company that I founded in 2004. We do a lot of online marketing management, multimedia content development, and web design. We work with clients in manufacturing, community development, and with service providers of all kinds. We also work with online retailers. In doing so, we have the capabilities of designing a brand, creating a store, and managing a marketing and sales campaign online. This is, in part, what led us to creating our accidental guitar store. We figured we were halfway to having an online retail business of our own. We just needed something to sell, and fulfillment. 
Musical Instrument Manufacturing
One of RevenFlo's niche industries over the past few years has been the musical instrument manufacturing industry. We've gotten into the industry because we are all musicians and just follow our interests as such. We made some great connections quickly doing marketing video production with brands like Eastwood Guitars, Airline Guitars, and Santa Cruz Guitar Company.
As the past two years presented challenges to the world, these years also presented opportunities. At RevenFlo, we did more and more work in selling instruments. We did branding, content creation, video production, social marketing, search engine optimization, and more. We also designed and developed ecommerce sales channels and built the online marketing funnels that drove the sales therein.
For RevenFlo, The Local Pickup is not only a new ecommerce channel for our musical instrument manufacturing clients (a unique online dealer), but it is also a productive sandbox. We get to try all kinds of innovative online marketing strategies, tactics, and tools as they develop in the marketplace. We have a lot of fun with The Local Pickup and learn a lot from it.
Business Model
Our current operating business model starts with these three determinations, which then define the nature of the business.
Every point of sale for TLP happens on our website or on Reverb.com (a third-party website), even if you are standing in our showroom when you make the purchase.
We sell products that can be picked up in the showroom or shipped nationally. We also sell non-inventory products that are then shipped from the manufacturer directly to the buyer.
We have an experience-focused showroom in Rock Hill, SC, that is by appointment only, with occasional "Open House" hours.
We settled on this current operating model for a list of reasons. Some were constraints of budget and resources. Some were preferences for our own time and lifestyle. And some were about creating something unique and leaning into that uniqueness as a strength. 
Audience
TLP's primary audience is someone who plays (or wants to play) the guitar. Our secondary audience is the musician in general. Our tertiary audience is makers and manufacturers.
Service Area
Our service areas are
The local and day-trip region (for appointments)
Lower US and Canada (for ship and drop-ship)
Marketing for that New Retail Store
Strategy
Clarity is the driving force for any journey. There is great power in knowing where you want to go and why. Then, strategy comes next. Strategy is having a map, choosing a destination, and making a plan to get there. That destination is what I call the desired outcome.
Our desired outcome is for TLP to be a vibrant, community-oriented, profitable guitar retailer. 
So, we need to design objectives that will create that outcome. These are the objectives that we designed:
Schedule in-person appointments with returning and prospective customers.
Sell drop-ship products online through TheLocalPickup.com and Reverb.com.
Work with the musician community in a way that creates synergy.
Branding
When you're marketing a product, you are putting forward two things: 1. the product and 2. the seller (or the brand). Selling the product is about demand, value, and accessibility. Selling the seller (or the brand) is about trust and/or predictability.
Sometimes we buy from people we like and trust, as we often do with small businesses. Other times we buy from businesses that we may or may not like, but we trust these businesses to provide predictability.
With companies like Walmart and Amazon and McDonalds, everyone knows what they are, how they work, and what you get by using them. In these examples, many of the buyers not only don't have positive emotional trust for these sellers, some even have negative emotions towards the seller, yet they buy from them anyway. The reason is that they know what they are getting, and they are choosing it. The value proposition is clear and that lowers the risks in them acquiring something they need or desire.
A lot of online buying happens in selling marketplaces, like Amazon and Ebay. In these online markets, you often see the same product available at the same price from a list of different sellers, none of whom you recognize. In this case people put their trust in the platform (Ebay or Amazon), and they will choose to purchase from the sellers that have five-star ratings from hundreds of reviews. This is because the seller (the trusted source) presents that review information as a readily visible scorecard. This trust in the overall brand (in Amazon, for example) and in that rated vendor (because of the scorecard), just helps you know that you are going to get the product that you are trying to buy. You're only there for the product, not to make a relationship with the seller. From the seller, you just need predictability.
Local retailers are of course the exact opposite. The success of the business is based on a community's relationships and trust with the brand and the seller. This usually even means the owner and the employees personally. So, as we looked at developing an identity for The Local Pickup, we decided that we just wanted to be ourselves and invest time into doing the things we like – making music, learning about guitars and gear, and collaborating with creative people. We thought that if we really invest in doing these things, then our marketing strategy is to just openly show everyone who we are and what we are doing. We want to be as real, positive, excited, and sharing as we can be. This would allow us to add value to the musician community, and to be an attractive retail provider for the interested musician.
For TLP's Identity, we went with these ideas:
1 – Likability
We decided to put people at the front of the brand. We believe that when good people are simply themselves, they are likable. So, we put ourselves at the front of the brand. We are players. We are fans. We are learners. We are good-hearted. And we are just being ourselves, and having a good time. We figure that's the best we can do.
2 – Playability
With vintage guitars, playability is a big question mark. Some people collect guitars and don't play them much, but we are focused on the player. We get every guitar to the point of being enjoyable to play. We feel that if a guitar is difficult or impossible to play, then it is broken and needs to be fixed or improved. This sometimes this just means a good cleaning and set up, but sometimes it means repairs and even replacing original parts (though we always keep original parts with the guitar). This focus on playability for vintage guitars creates a unique positioning for us and a trust from our buyers. In terms of new products, we have easy return policies so that creates the same kind of trust. We want people to know this about us. If they buy a vintage guitar from us, it's gonna be playable. If they buy anything from us, it's gonna work, or they can just return it. This lowers risk for the buyer.
3 – Experience
We want to focus on experiences. Experiences are what instruments provide. They are to be played, handled, and admired. We want people to come to our showroom and try out the instruments. We want musicians to demo and use our instruments. We want to provide industry-show style experiences to help our visitors learn about manufacturers and makers, as well as provide museum-like experiences to help them learn about the history of vintage guitars.
Ecommerce
To sell online is to be able to transact online. This requires either having an ecommerce website or participating in an online market platform (like Amazon or Ebay). Most retail businesses do both. They have their own stand-alone, ecommerce-enabled website, and they participate in market platforms.
For an ecommerce website, TLP uses WordPress with the Woo Commerce technology installed. We're big fans of the power and malleability of WordPress. It allows us to do pretty much anything we want to do.
But if you don't want to design, develop, and maintain your own ecommerce website system, you can try something like Shopify, which allows the lay user to easily create an online store and manage it. You just pay them a monthly fee and your hosting and maintenance is included.
As for third-party platforms, each retailer is different. Amazon, Facebook, Ebay, and more are used by all kinds of different retail businesses. Also industry niched sites are very popular. TLP uses Reverb, a seller's marketplace focused on musical instruments. It's a big part of our business — especially for our drop-ship items.
One concern you should always keep front-and-center when it comes to ecommerce is your system integration. For example, in how many places do you have inventory information? If there are discrepancies in the data, which one is the source of truth? You need a system of technologies, processes, and understandings to manage inventory and sales across multiple systems. This must be done smartly or it is a source of continuing costs, headaches, and inefficiencies. For this reason, ecommerce websites are now built as full inventory and point of sale systems, though most retailers have other systems they are already in and do not want to migrate and change. The solution is unique for each retailer, but the outcomes needs to be efficiency of operations and continued accuracy of data. 
Content Development
As has been said for decades now, content is king. The brand, the message, the value proposition, the specific offering, the buying process, and education about and around your products must all be clearly and compellingly communicated not only as static content-infrastructure, but reinforced consistently online in search and social spaces.
With The Local Pickup, we need to have a process for developing:
Copy (Product Listings, Processes)
Videos (Demos and Creative Projects)
Photos (Product, Event, Creative)
Articles (Blog Posts, News Items)
Social Media Posts (Facebook, Instagram)
Then, we need a strategic process for publishing all of the content.
Creating an Online Sales Funnel
To do online marketing for a retailer effectively, we need:
A clear and meaningful brand
Compelling and clear static content
Functioning ecommerce channels
Established publishing and engagement channels
A process for continuously creating strategic content
With these in place, we can conduct effective online marketing by creating an online sales funnel. But, instead of designing the model like a funnel, we want to design it like a tank tread, so it can advance forward by going round and round. 
Each of these areas of focus needs a strategy, a plan, and devoted resources. Each should be developed interdependently for the success of the whole system.
Search
Search is used by all of our prospects and customers. People use it for local things and for non-local things, for products and ideas, for content and for tools. People use it indiscriminately and all the time. So, each business needs to understand how people could use search to engage with them, and then they can approach their search optimization from that standpoint.
The Local Pickup has a dominant local search presence in our niche market. This supports our "get appointments" objective. We are top 1-3 in Google for any search like:
Vintage Guitars for Sale in Rock Hill
Vintage Guitars for Sale in Charlotte
Used Guitars for Sale in Rock Hill
Used Guitars for Sale in Charlotte
TLP also has a very strong "longtail" search presence, for very specific vintage and boutique instruments to serve our national audience of buyers. This means that when we have a specific instrument or rare type of instrument – like a 1966 Gibson LG-1 or 1960s Japanese Electric Guitars – we shoot to the first page for those who are seeking out that specific niche product.
We've achieved these two areas of search optimization excellence very deliberately and over the past two years of consistent work.
Social Media
For our social media work, TLP uses Facebook, Instagram, and YouTube. We use social media to grow awareness of and engagement with our brand in the general local/regional marketplace as well as the national guitar-focused marketplace. Along with regular posting and engagement, we utilize the set of tools available from each platform – like Facebook Marketplace, Instagram Stories, and so on. From social media, we send those interested to our website. This moves an individual into our marketing and sales funnel.
Website
On the website we hope to engage the visitors in our guitars, in our brand, in our personalities, in our friends and collaborators, and in education about guitars and related gear. 
Shop
We want to provide a compelling experience of shopping on our website. The shop is our online store. Though it is integrated with our website content, it is specific to displaying products and the ability to add them to a cart and purchase. 
We use our physical location to provide to a potential buyer the experience of trying out the instrument in a conducive environment. We also use our physical location to collaborate with musicians and create content.
Point of Sale
The Point of Sale (POS) is when someone purchases something. In our case, the point of sale starts when the viewer clicks "Add to Cart" and ends with the completed transaction. Our buyer must transact on the website to purchase something from us (even if they are standing in the showroom when they do it).
Though we are ultimately seeking the point of sale, our primary conversion on the TLP website right now is for someone to fill out a form for setting an appointment. We are focusing on this because we believe that it is better for someone to try out a product before they buy it (especially with vintage guitars, each one unique). This being the case, we have designed the website around this conversion and have a response process in place.
Delivery
The delivery is about getting the product to the buyer and creating a positive experience for the buyer in the process. For pickups, it means convenience, friendliness, and an attractive and comfortable space. For shipping this includes clear notifications, insurance, and return policies. It also includes customer service for any issues that may arise.
Nurture
After a customer buys a guitar from us, we want to stay in touch with them. We want to provide them information that they will appreciate and enjoy. Email marketing is our main tool for such nurturing, but one-on-one customer service communications is also not uncommon. We think putting energy into our existing customers is a great way to spend our time. We hope to keep these customers engaged with us on social media to stay part of our circle. We hope that they will help market and advocate for us as they see fit to do so.
Conclusion (for now)
Marketing can be a lot to take on, especially in the changing retail marketplace. I just try to start with asking the question, Who is buying what from you and why? Followed by the question, What outcome do you want to see take shape? If we can get clear answers to these questions, then we can apply all the skills, tools, and processes that are available to us through our model, experience, and knowledge and make it happen.