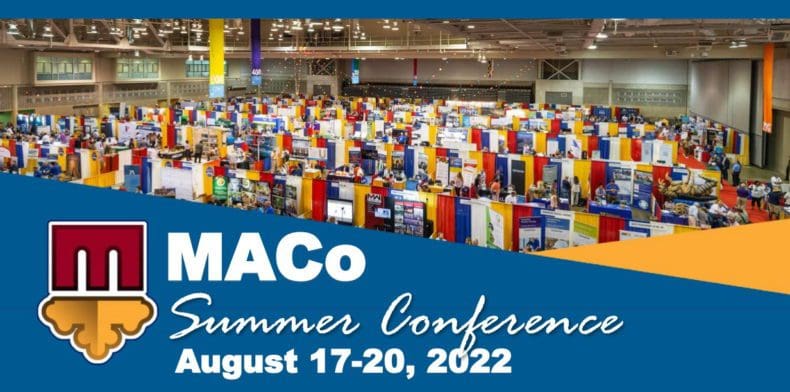 Jason Broadwater has been selected to present the keynote speech at the annual Maryland Association of Counties (MACo) Summer 2022 Conference in Ocean City, Maryland. MACo is a Maryland economic development association focusing on counties within that state. This is MACo's annual large summit, the theme for which is "Taking Care of Business." As an economic development speaker, Jason is looking forward to this year's summit.
This year's MACo summer economic development conference will focus on the aftermath of the COVID-19 pandemic. With counties keeping health and safety a top priority, local government leaders are also exploring avenues to boost and support local businesses. From exploring available resources, finding creative ways to achieve common goals, and forming collaborative partnerships, this conference is about taking communities from "surviving" to "thriving."
The highlights of this year's MACo Conference are as follows:
3,000 participants – leaders in local and state government and the private sector
300-booth, 2-day exhibit show highlighting cost-saving products and services
60-booth, 1-day expo showcasing technology vendors
40 educational sessions and 90 speakers focusing on county governance challenges and solutions
"As a community, we want to create an environment where businesses can be successful. But why? Businesses are not important in and of themselves. They exist to serve people, which includes the owners, the employees, the customers, the investors, and the public (through the payment of taxes and more)." Jason's keynote for this conference is titled "Focus on People for Business for People." In it, he lays out a model of outcomes-based government policy designed to make sure that the people (and their businesses) thrive in their communities. He will be presenting on Thursday morning of the event (8/18). Jason has a background in economic development marketing and economic development consulting, so he is prepared to bring relevant and fresh perspectives to this year's MACo conference.
Special thanks to Local Government Insurance Trust (LGIT), the keynote sponsor for this conference.