Vance Stine is running for SC House, District 47. He'll run against Tommy Pope and Brett Boyd in the Republican Primary and then against Herb Kirsh for the District 47 seat in the South Carolina State House of Representatives.
I know Vance. I know he is a good man who is working for change. I know he is practical and motivated. I know he wants tax reform. I know he's not afraid to say out loud that 388 is bad policy and was from the beginning. Vance is about home rule. And Vance is about addressing unemployment through the new services market place and new understandings about what economic development looks like.
I'm not party affiliated. I actually find myself very frustrated with both parties. I see pettiness and group think and towin' lines and complex agendas. What I don't hear about or see, and maybe it's just not as visible, is collaborative leadership and real solution development.
Vance is a Republican, so I went to the Republican Party's official website to see if I could engage with their message – since I support Vance.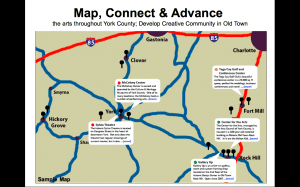 When I got there, what I saw was a huge insulting drawing of Nancy Pelosi as a puppet master, and I thought this is exactly the problem we have with government.
I was expecting to see what the Republican Party hoped to achieve, what ideas they had for doing it a better way, what the issues are and how they suggested we approach them, but instead I got a quasi hate message like something a bully would have drawn about another person in their notebook in high school.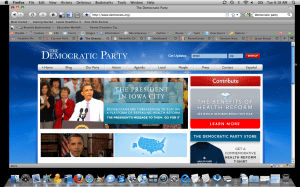 So, I went to the Democratic Party's website and saw Obama and thought, well, at least they are focusing on what they bring and not on the other side (and it's silly that a president is on "a side" to begin with), but then I read the text. It said:
"Republicans are threatening to run on a platform of repealing health care reform.
The president's message to them: Bring it On."
… and I thought, that's the same damn thing as the Pelosi drawing (just not as over-the-top).
Politics is like a game that's based mostly on the self-importance of those playing it, and secondarily on the purpose of government. The flaunting of the animosity among them is like watching High School Musical or something. I am literally in disbelief with what I hear about the behavior and comments of those at the national level.
I'm sure there is much being done in those spaces, as well. But it's not as visible somehow.
With frustration in both major political parties, with confusion towards the process, and with reservation towards those involved…
I will support Vance Stine for SC House.
Vance Stine is a good person who believes that the government can be more responsible and more productive. He is experienced in governing well and collaboratively, and he is running for the right reasons – change.
Vance wants tax reform to fund the schools and better manage the state's resources and entrepreneurism to drive the economy.
I am helping Vance articulate his ideas on the web. I helped him with his website and web marketing. I believe that he is right on track to focus on:
Funding Education
Addressing Unemployment
Home Rule
It's the economy stupid – but for the health and growth of our community – government for the people, by people.