Consulting
Create Success
Economic Development
Jason provides consultation in economic development to communities that are investing in developing a shared vision, designing an innovative strategy, and implementing change for the new economy.
Talent Recruitment & Development
Industry & The New Economy
Downtown Revitalization & Placemaking
Organization Development
Jason provides consultation to businesses and organizations looking to affect change. Jason works as a consultant vendor or as a fractional executive team member.
Branding & Identity
Marketing Strategy
Team Development
Executive Consulting
Jason works with CEOs and executive team members to provide on-going consulting for affecting positive change.
Project Consulting
Jason works with project leaders to help design and facilitate projects to success and meaningful outcomes.
Strategy Development
Jason works with clients to develop vision, strategies, and action plans for affecting positive change.
Event / Happening
Jason works with clients to design and facilitate events that have impact on organizations and communities.
Jason is a visionary person with a remarkable ability to put ideas into action. In supporting economic development, highest recommendations!
Jason has the incredible ability to take complex, creative ideas and articulate those ideas in a very powerful way.  Our community WILL move forward thanks to Jason Broadwater.
Jason… Your share in Salisbury was exceptional on many levels. As an aging boomer – you helped me 'get it' in a way that I can be more successful at work which is nice – but more effective with my two children which is priceless.
This was the best seminar I was privileged to attend in the past two months. The speaker was unreal good and the info he gave us has already had a positive impact on our town. It was a game changer for Federalsburg. Good job. No, great job. Thank you.
I had the opportunity to sit in on a speech Jason provided in the South Lake Tahoe region of California. His approach on the millennial generation was both refreshing and nuanced. It was truly a thought provoking perspective and one that I immediately brought back to my colleagues. Jason is a seasoned speaker with a charismatic style that blends messaging around economic development, community building and marketing. Truly inspirational!
Jason provided our group with a great mix of data, humor, and insights that were informative and entertaining at the same time. He planted seeds and impressions that I know will resonate in our community in the coming months. We've received very positive feedback from attendees. He was a hit for sure!
Your presentation was the icing on the cake. You brought a very inspiring and well thought out message. I would love to see your ideas begin to root here in Nevada.
Jason is a self-organizing and visionary entrepreneur and a leader in our community.
Jason excites the mind when he is speaking. He is creative and brings the ever-changing culture to the discussion of long-time problems. He looks through new eyes. Our 60-plus CEO attendees enjoyed his talk greatly…and are still referring to his ideas!
Jason's ability to convey the message of how crowdsourcing can be used as a tool to spur redevelopment efforts is uncanny. He has made the connection between public engagement and community redevelopment. I encourage you to hear him share his experiences in Rock Hill, SC.
Project Overview
Knowledge Park is the economic development strategy to bring together a 1.5-mile radius area at the center of Rock Hill, SC that includes the burgeoning downtown, Winthrop University, and the previously blighted abandoned textile corridor that lies in between. The project is focused on the new economy and how jobs and business flows from the cultural vibrancy of the placemaking of the urban environment. The project is ongoing, multifaceted, and has led to hundreds of millions of dollars in private investment in the Knowledge Park area.
Jason's Role in the Project
Served on the Rock Hill Economic Development Corporation for 10 years (a full term), which was the primary organization leading the revitalization.

Designed, cofounded, and managed of the Hive, which was a key early project in introducing the new economy to city leaders.

Served on the Innovation group who brought to the city initiatives such as the Pipeline Program and the Technology Incubator.
Served on the Knowledge Park Leadership Group that selected the master developer for the 23-acre bleachery site at the center of Knowledge Park.
Further developed the Knowledge Park brand and story through marketing media (with RevenFlo).
Designed and developed the Knowledge Park website and videos (with RevenFlo).
Jason is a visionary person with a remarkable ability to put ideas into action. In supporting economic development, highest recommendations!
Jason is a self-organizing and visionary entrepreneur and a leader in our community.
Project Overview
The Columbia Museum of Art is a world-class, small museum. The museum is undergoing significant change, as are all museums, and is looking at how the institution will be successful with the next generation of supporters, while maintaining its value for its current supporters. In other words, what kinds of changes are needed, and what is the right pace of change.
Jason's Role in the Project
Jason facilitated a strategic process with museum staff, key stakeholders, and the RevenFlo team to design changes to:
the museum's brand as a whole
the museum's approach to marketing art and events
the marketing department's processes and tools
Project Overview
Sidewalk/Rock Hill, LLC is producing a Bold New Vision for a long-vacant textile factory adjacent to the beautiful campus of Winthrop University in Rock Hill, South Carolina. Known as University Center, this new development stretches from the southern tip of the revitalizing downtown through the textile corridor to Winthrop University. The 23-acre former bleachery site will include:
Commercial office space
An indoor Athletic Complex with competitive courts
120 room hotel and banquet center
Market Pavilion with retail and food vendors
Restaurants and an indoor stage complex
500 bed student housing
Market rate apartments as well as Active Adult living
Outdoor Festival spaces
Jason's Role in the Project
Sidewalk Development contacted Jason from the beginning of the project to get input on strategy, audience, and voice. From there, Jason and RevenFlo created the media for the project including the video and the website. We worked on:
Identity, Voice, Audience
Strategy & Planning
Marketing (Video Production, Website)
University Center Overview
Project Overview
In 2001, under the leadership of Derick Close, whose family founded Springs Mills (now Springs Global), the Retail and Specialty Fabrics Division of Springs was renamed the Creative Products Group to more accurately reflect the creative talents and innovative product offerings of the business unit. Derick purchased the division in March 2007, and the newly formed company was renamed Springs Creative Products Group, LLC to signal the start of a new company with a new approach to doing business in the world of textiles. Springs Creative, staffed by more than 150 talented employees, maintains design, marketing and sales offices in Rock Hill, S.C. and a team of production and sourcing specialists in Shanghai, China, carrying brands such as: Disney, Marvel, Pixar, The Walking Dead, Nickelodeon, Cartoon Network, Adventure Time, John Deere, Hello Kitty, Tim Coffey, Elizabeth Olsen, Jennifer Paganelli, Suzanne Nicoll, Susan Winget, Concord House, Crafty Cuts, Creative Essentials, Creative Cuts, Daisy Kingdom, Sandlapper Manufacturing, Beyond Measure, Scene Weaver, Springsteen Logistics, Truetimber Camo
Jason's Role in the Project
Jason was hired by Derick in a time of significant change at Springs Creative. The project was to come in for 120 days and revamp digital identity and media of the company and its subsidiary companies. Jason and the team at RevenFlo designed a new corporate website and brand image, as well as five other websites representing specific service lines and subsidiary businesses of Springs Creative.
Project Overview
Givolio is your giving portfolio. It is a platform for giving that allows a user to select from over 1.8 million nonprofit organizations and build their own portfolio of giving. They can give one time or in recurring intervals. The application keeps up with all of your giving in one place and provides a one-click tax report for all of your needed tax information for your giving throughout the year.
Givolio also offers workplace giving options, working with employers to provide giving opportunities to their employees. Not only is this good for giving, but it's good for recruiting a talented millennial workforce, who want to work for companies that demonstrate social responsibility.
Jason's Role in the Project
Jason is the founder and president of Givolio.
Project Overview
Aday Remus was a project in prototyping what a downtown and thus a community could become. The project allowed citizens to participate in designing the potential future of their own communities by attaching ideas to spaces. What would you do with a building?
What's your idea for the new use of an old space? Participants could identify buildings in their communities and design prototypes of the use of those spaces (a coffee shop, a cowork space, a bookstore, a pizza place, or whatever). Participants could then engage socially around these ideas, thus driving an active redevelopment of your community.
Jason's Role in the Project
Jason was the creator, producer, and director of the Aday Remus project as whole. Plus, in In 2013, Jason orchestrated a pilot project that brought together a hand-picked group of Masters in Business Administration students from Winthrop University with Economic Development staff at the City of Rock Hill, as well as community leaders and businesses. The MBA students identified available buildings and developed business ideas for the use of that space. The students used Aday Remus as their medium to do the work in a public and social way. Then, Jason, RevenFlo, and the students themselves designed the 2013 Old Town New World Conference around the project.
The project has proven to be a cornerstone for my educational experience both inside and outside the classroom, and I have taken the skills, knowledge, and relationships gained and have applied them daily to my career moving forward.
More than a traditional internship or single class, this project provided deep interdisciplinary problem solving & hands on experience. Being able to work alongside both a university and city officials offered hands on experience, not only in project management, but also in community empowerment.
Aday Remus Described by its Creators
Aday Remus – The Student Project
Project Overview
Piedmont Medical Center is a community hospital that has served York County and beyond for decades. The hospital was experiencing a renaissance of change and improvements, but the community held their long standing opinions of the hospital – that it was inferior to hospitals in Charlotte. The public couldn't see all of the changes happening and how the hospital was becoming a superior hospital in many respects. So, they knew they needed to change the way the approached they community. They sought new ways to market and new staff to do the work.
Jason's Role in the Project
Jason designed strategies for utilizing digital and social marketing to engage the community in the changes that were taking place at the hospital. He worked as RevenFlo's lead in the project, but also did a 90-day term as an interim marketing director to help the hospital ramp-up new staff, implement strategic change, and improve marketing processes and internal communications.
Project Overview
For three and a half years, we (a collaboration of businesses and institutions) brought students from Winthrop University and York Technical College into a space in burgeoning downtown Rock Hill, SC and taught them how to design and develop websites by building free or low-cost websites for regional non-profit organizations.
The outcomes of The Hive were many and interwoven.
The students got a great capstone experience.
The non-profits got a great website.
The population served by the non-profits got the benefit of improved operations/marketing/funding of the non-profit (the reason for the website to begin with).
The city got the students to come downtown, as it is seeking their participation and energy for economic development.
Rock Hill received the workforce training economic development benefit.
The educational institutions got the opportunity to innovate and iterate their offerings in training and educational services.
The project was a success and is recognized as the catalyst of the Hive being a "tip-of-the-spear" initiative in the community's revitalization as an early symbol and attention-shifter towards the community development initiative that would come to be known as Knowledge Park.
Jason's Role in the Project
Jason created the concept of the Hive. He was the co-founder and then managed the project for three years.
The Hive represents the very best of today's reality. A joint effort with the public private and educational interests combined to enhance economic development and learning experience is a win for everyone. Our hope is that the quality of life in our community and this new high tech initiative will result in creative jobs in a place young people will want to stay and call home.
The Hive is an innovative, collaborative solution for utilizing the growing Internet Industry for workforce, community, and economic development. Not only was the idea truly innovative, but RevenFlo delivered.
Field based learning is at the heart of what we do but the HIVE takes the benefits to a new level; students have a dedicated place to work, the clients are real, other team members come from York Tech with their distinct competencies, so the collaborators is a perfect representation of how their careers will unfold. They feel the pressure and learn to rely on their creativity. Our teachers, working with the other supervising professionals, can act more like conductors than enforcers of a set of arbitrary rules.
The Hive is bringing a new energy, youthful energy, to the core of Main Streets of Old Town. It provides a place for future entrepreneurs to learn a trade, to hone it, and possibly to set up shop in Old Town Rock Hill. And, what's even better, these entrepreneurs might consider remaining in Old Town as residents. The Hive is a boon to restaurants in Old Town and is a strong contributor as the "third place" to which downtown Rock Hill has aspired. In short, it's good for business and it's good for people.
Two Former Hive Students Discuss the Hive's Impact on Them
Project Overview
Collision Cowork is the first coworking space in Rock Hill, SC. It's located in the heart of Knowledge Park on Main Street in Downtown Rock Hill.
Jason's Role in the Project
Jason created the concept, the name, the brand, and the marketing strategy. Working with his team at RevenFlo, he created the logo, the website, the video, and the marketing collateral.
Project Overview
Jobs Rock Hill is a jobs website for the city of Rock Hill and beyond. The site focuses on the Knowledge Economy. The site is in reaction to a study that revealed that 50,000 people drive out of York County everyday to work in neighboring Charlotte. These talented workers don't believe there are jobs in Rock Hill. Meanwhile, employers say there is not the talent/workforce in Rock Hill. The Jobs Rock Hill project is an attempt to make both sides recognize that the other is there and thus to retain talent working in Rock Hill and York County.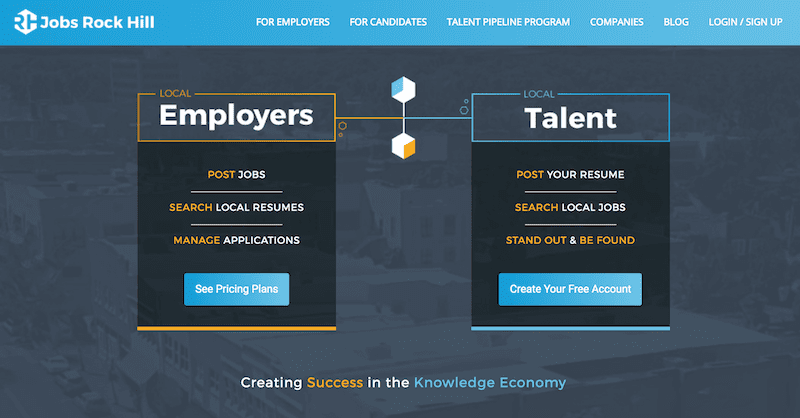 Jason's Role in the Project
Jason brought the concept to the table of a standalone jobs website for the community centered around the knowledge economy. He created the business model for a partnership between his company RevenFlo and the Rock Hill Economic Development Corporation. Working with his team at RevenFlo, he developed the brand and the website.